Hot Topics in the Calvary Discussion Forums Today!
• What is He trying to say? • Movie Reviews • Vote has been Delayed!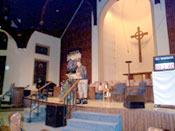 We're not just building a building... We're Expanding a Ministry
The expansion vote has been delayed. Members are still encouraged to attend and discuss the current situation. And as always, please be in prayer for the direction of this project.
Read the latest press release "When God Says Wait" in the News section.
This special web site was created to inform and facilitate interaction about this important proposed project.
Subscribe to the email list. Discuss the Foundation For The Future project online.
Pastoral Care Team
The team on call this week consists of Pastor Andrew Irvin and Elders Dick Jahns and Ian Smith. Please call the Church Office if you know of anyone who is ill, hospitalized, or going through bereavement.
The Keep Believing Corner - Pastor Ray Pritchard


•
Ask Pastor Ray - A popular Online Discussion Forum!
•
Pastor Ray's List - Subscribe to receive a weekly personal email update from Pastor Ray Pritchard along with his latest sermon!
•
Books - by Pastor Ray Pritchard
•
Sermons - by Pastor Ray Pritchard
•
Ponder This! - a short weekly article
•
Pastor Ray's Travel & Media Schedule
•
Current Sermon Series - Living by The Book
Nothing Shall Offend Them: A Message for Unhappy, Irritated, and Bent-Out-of-Shape Christians - Psalm 119:165
There are times for all of us when the storm clouds of sorrow and suffering threaten to overwhelm us. In those moments, we are tempted to despair because of what we see all around us. But then the Lord says, "My child, fear not. Above the clouds of sadness, the sunlight of my love is always shining. Today you do not see it nor do you feel it and you fear the sunlight is gone forever. But wait a little while and the clouds will be gone and the sun will shine again. And know this. Even when you do not see it, the sun is shining above the clouds even when the storms are breaking over your head."

View it live on CalvaryTV!
"Before I Was Afflicted I Went Astray": Why Your Troubles are a Gift from God"
Sometimes we will face things for which there is no earthly explanation. In those moments we need to erect a sign that reads, "Quiet: God at Work." Meanwhile, hold on, child of God. Keep believing. Don't quit. Don't give up. Let God do his work in you. The greatest tragedy is to miss what God wants to teach us through our troubles. May God bring us to the place where we can say what the psalmist said, "It was good for me to be afflicted that I might learn your decrees."
View the archived service online! Read the sermon online!
---
© 1998-2001 CalvaryMemorial.com • All rights reserved • Content Rating • Unauthorized reproduction strictly prohibited by law. • Best viewed with Netscape or IE versions 4 or newer at 800 x 600 pixels or larger. • Questions, suggestions or problems? Click Here!
• Sermons
• Discussion Boards
• CalvaryTV
• LifeCare
• Ponder This!
Wedding Announcement!
Thank You's
Special Offering to Be Taken
Marriage Encounter Weekend
Nursery Workers Needed
Be a Blessing to Children
Three Sunday morning services are offered:
8:30 AM - Traditional
10:00 AM - Contemporary
11:30 AM - Contemporary
Childcare is provided during all services.